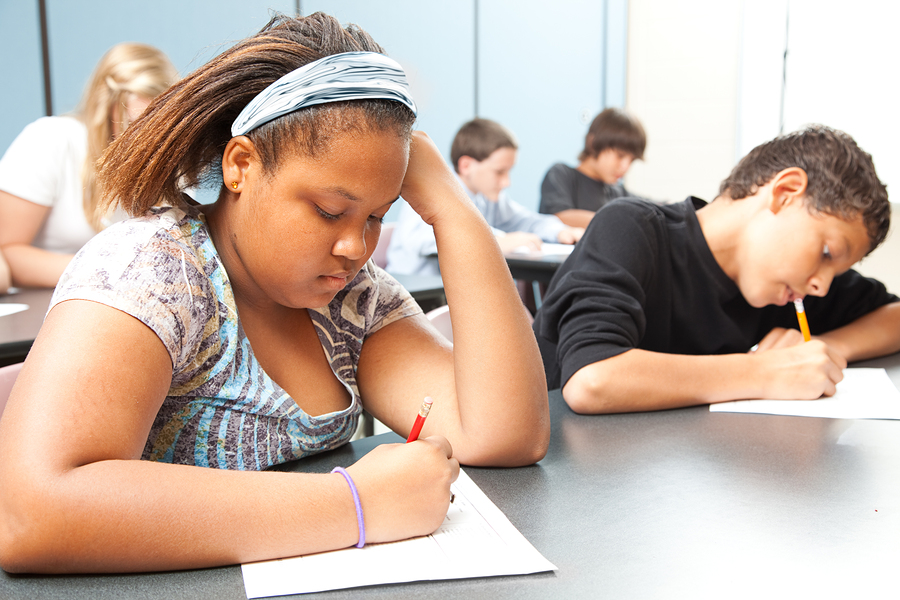 The results for the 2013 New York State tests for ELA and math in grades 3 through 8 are out and the sky is falling.  This year's test is brand new so comparisons to last year's results can't be done.   New York is the only state in the country to use new common core tests, tests aligned to the common core standards.  This is significant because curriculum based on the standards have not been developed yet.  See where this is going?
Let's review - We have results from brand new tests based on brand new standards without complete curriculum.  What could go wrong?
Before the tests were even administered the DOE started a big PR campaign to set expectations of much lower scores than past  years.  In fact, Commissioner John King predicted that the number of students deemed proficient would likely fall by 30 points.
He did not disappoint.  Headlines from across the country chronicle the dismal results.  Samples of test items were released along with the scores for all to see.
As parents, what do we tell our kids?  Carol Burris, New York's 2013 High School Principal of the year writes:
...my advice to parents is this. Remember that these tests are hardly a measure of your child's value or promise as a student. Be outraged if she is now labeled "below proficient" based on tests that were designed to have scores drop like a stone.  Your conversations with your child's teacher or principal can give you far better insights into her academic and (just as importantly) social and emotional growth.
Full article here.
We're about to start another school year with these test results used as a benchmark.  Parents, we need to speak out and not settle for this corporate led, fast food, test driven version of education that we are being fed.  We have the power to make change.  What will you do?
Here's a round-up of other articles commenting on the test results.
Walcott: Common Core test results are about the future of our children, not adults (NY Daily News Opinion)
Chapman: Timeline for recovery of New York's reading, math scores uncertain as Common Core tests roll out (NY Daily News)
Mulgrew: Poor test results show Common Core curriculum was rushed (NY Daily News Opinion)
Failing kids – and voters (NY Daily News Editorial)
A test of honesty (NY Post Editorial)
Painful but necessary process (NY Post Opinion)
Punishing kids for adult failures (NY Daily News Opinion)
Musiowsky-Borneman: Teachers will have their work cut out for them as they prepare students for Common Core tests (NY Daily News Opinion)
Parent: Bloomberg's obsession with state tests should not replace real teaching, next mayor must make change (NY Daily News Opinion)
Goldstein: Common Core tests are not the answer in child-centered education (NY Daily News Opinion)
Less than one-third of city elementary-school students pass statewide tests (NY Post)
Charter schools and public schools equally showed poor testing performance (NY Daily News)
New York's Common Core Test Scores (NY Times Editorial)
Test Scores Sink as New York Adopts Tougher Benchmarks (NY Times)
State Officials Release New Test Score Data, Proficiency Drops (WSJ)
At test score presentations, NYC celebrates, state stays sober (GothamSchools)
Test scores fall sharply statewide, but NYC fares relatively well (GothamSchools)
Educators Debate Stark Decline in Test Scores (WNYC/SchoolBook)
Fewer than One Third of New York City Students Pass State Tests (WNYC/SchoolBook)
City Students' Math And English Scores Dip (NY1)
Standardized Test Scores In New York Drop As Expected (CBS New York)
New York Standardized Test Scores Plunge Under New Learning Standards (NBC New York)
Student test scores plummet (Fox New York)
City kids not making the grade: Test scores plunge amid toughened standards (NY Post)
City students' scores take dramatic plunge after new standardized tests (NY Daily News)
Shock, suggestions, and silver linings in test score reactions (GothamSchools)
Facing Lower Test Scores Bloomberg Administration Takes Long View (WNYC/SchoolBook)
Chart How Your School Performed on State Tests (WNYC/SchoolBook)
Four big questions to ask about New York City's new test scores (GothamSchools)
What N.Y. students actually had to do to pass the math tests (GothamSchools)
More than Half of City Kids Failed State's Harder Math and Reading Tests (DNAinfo)