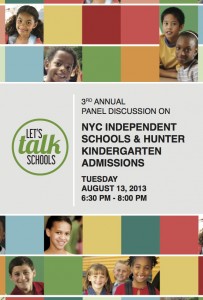 Our 3rd annual admissions panel is set for Tuesday, August 13th in Central Harlem.  Once again we will have admission directors from Hunter Elementary and several independent schools on hand to speak about the admission process and to answer your questions.  Flyer here
This program will inform parents applying to kindergarten at Hunter Elementary and private independent schools of the various options available and is an overview from admission directors. (Applying in September 2013 for the 2014-2015 school year.)
Program includes: 
• Summary of the complete application process
• Screening tests (ERB & Stanford Binet)
• What to look for on tours and what to expect
• Financial aid and affording an independent school education
• How admission decisions are made
Date: Tuesday, August 13, 2013
Time: 6:30 PM - 8:00 PM
Location: Ephesus Church, 101 W 123rd Street
Reserve your space early!  Financial aid is available.  Contact info@letstalkschools.com for details.